You just can't talk about Texas without talking about barbecue. Barbecue always tells such an interesting, amazing, and sometimes funny story. My name is Aaron Vogel, most people call me "Big A." I am the pitmaster at Cackle & Oink and here is OUR story:
I grew up in a rural town in Southern Illinois. We never did much cooking in the kitchen. My dad taught me how to cook outside with wood. When I was a young kid, I would help my dad roll the charcoal grill into the driveway and slather up some pork steaks for dinner. I would stay close-at-hand with my spray bottle ready for any flare-ups which may occur. Now back then, I didn't know the difference between grilling vs. smoking- I just knew that playing with knives and fire was kinda fun for any kid. Nor little did I know then, that small grill of pork steaks would eventually turn into over 300,000 pounds of barbecue per year!
My wife, Andrea and I, opened the doors at Cackle & Oink on March 17, 2005. We had visions of people waiting in line anxiously awaiting our first official day of business. Unfortunately, it was nothing like that. I unlocked the front door at 11am, and we waited around for 20 minutes before we got our first customer. Today, cars fill our parking lot and both of our neighboring businesses parking lots!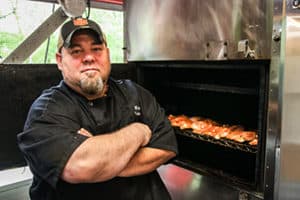 I have learned from several different pitmasters from all over the country. Memphis, St. Louis, Kansas City, Little Rock, Houston, North Carolina to name a few. We are (what you would call) a "hybrid" style or a "melting pot" of different flavors and techniques. We start by seasoning our meat with "house-made" dry rubs and marinades. Everything is rotisserie smoked over an applewood fire for hours. Our 4 signature sauces are only served on the side, so you can taste the true flavor, talent, and passion for what we do.
The #1 quality that separates Cackle & Oink from other restaurants is our service. From the moment you walk through our door, we want you to feel at home and have that feeling of being around great friends. Barbecue has brought friends and families together for decades. We know our customers. It is our mission to be the BEST & the FRIENDLIEST BBQ joint in America. Barbecue always tells such a GREAT story, we are so happy to be here to help tell it.
-Big A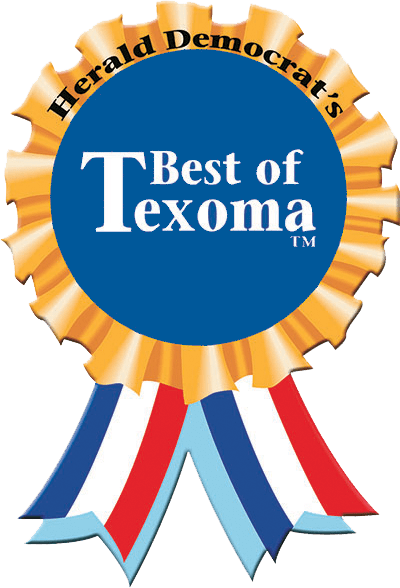 Best of Texoma 17 years running!
When Pigs Fly BBQ Bash
Cape Girardeau, MO
2nd Place Heroes Cup
Houston Livestock Show & Rodeo
14th Overall, 451 teams
Wichita Fall BBQ Cookoff
5th Place Ribs 52 teams
Jambo Shootout, Ennis TX
3rd Place Chicken
7th Place Ribs
115 teams
Memphis in May
8th Place Ribs
Houston Livestock Show & Rodeo
36th overall/426 teams
Germanfest- Muenster, TX
7th Place Chicken
10th Place Ribs
11th Place Brisket
Jakey in June BBQ Cookoff
1st Place Ribs
2nd Place Pork
Praise the Lard, Murphysboro, IL
9th Place Ribs
Oklahoma State BBQ Championship
1st Place – Ribs
5th Place – Chicken
8th Place – Brisket
Jakey in June BBQ Cookoff
2nd Place Brisket
7th Place Pork
Memphis in May World BBQ Championship
3rd Place Ribs
3rd Place Hot Wings
4th Place Mustard Sauce
Irving Elks Lodge BBQ Cookoff
3rd Place Ribs
4th Place Chicken
American Royal – Kansas City, MO
10th Place Sausage
Oklahoma State Championship – Ardmore, OK
1st Place Ribs
3rd Place Chicken
4th Place Brisket
Grand Champion
Jakey in June – St. Jacob, IL
1st First Place Pork
Germanfest BBQ Cookoff – Muenster, TX
3rd place Ribs
7th place Sausage
11th place Chicken
Grand Champion Oklahoma State Championship
GRAND CHAMPION
2nd place Ribs
2nd place Brisket
3rd place Pulled Pork
Oklahoma State Championship
Reserve Grand Champion
1st place Ribs
3rd Place Brisket
Irving Texas BBQ Cookoff
3rd place Ribs
4th Place Brisket
6th Place Chicken
Memphis in May
EIGHT TOP 10 FINISHES! including:
1st Place – Hot Wings
5th Place – Ribs
6th Place – Whole Hog
…and more!
Grayson County BBQ Cookoff
2nd Place Chicken
6th Place Ribs
National BBQ Championship – Meridian, TX
Rib Finalist
Texas State Championship – Keller, TX
1st Place Ribs
1st Place Chicken
Brisket Finalist
Whole Hog Cafe / Whole Hog Cookoff, Tunica, MS
4th Place Whole Hog
Loose Wheels Chili Cookoff, Sherman/Denison, TX
2nd Place Chili
6th Annual Cowhill Chili Fest & BBQ Cookoff, Commerce, TX
2nd Place Sweet Willie BBQ Sauce
4th Place Ribs
Ride for the Red Chili Cookoff, Loose Wheels, TX
2nd place Brisket Chili
Ride for the Red Chili Cookoff, Loose Wheels, TX
2nd place Brisket Chili
5th Annual Cowhill Chili Fest & BBQ Cookoff, Commerce, TX
4th Place Overall.
Bonham BBQ Cookoff, Bonham, TX
1st Place Ribs
1st Place Beef
2nd Place Non-traditional Chili
Grand Champion Overall (2nd year)
Bonham BBQ Cookoff, Bonham, TX
1st Place Beef
2nd Place Ribs
2nd Place Chicken
Grand Champion Overall
Denison Arts and Wine Renaissance
Best of the Best
Kirkwood Chili Cookoff
1st Place
1st Annual St. Louis BBQ Cookoff
4th Place Ribs
Rock'n Ribs Festival, Springfield, MO
1st Place Ribs
Grand Champion
Kirkwood Chili Cookoff
1st Place
Meat on the Mississippi, Caruthersville, MO
2nd Place Ribs
4th Place Shoulder
Illinois State Championship
1st Place Hog
1st Place Ribs
Kirkwood Chili Cookoff
1st Place
Illinois State Championship
1st Place Hog
Grand Champion
Memphis in May World BBQ Championship
1st Place Whole Hog (Super Smokers, STL)